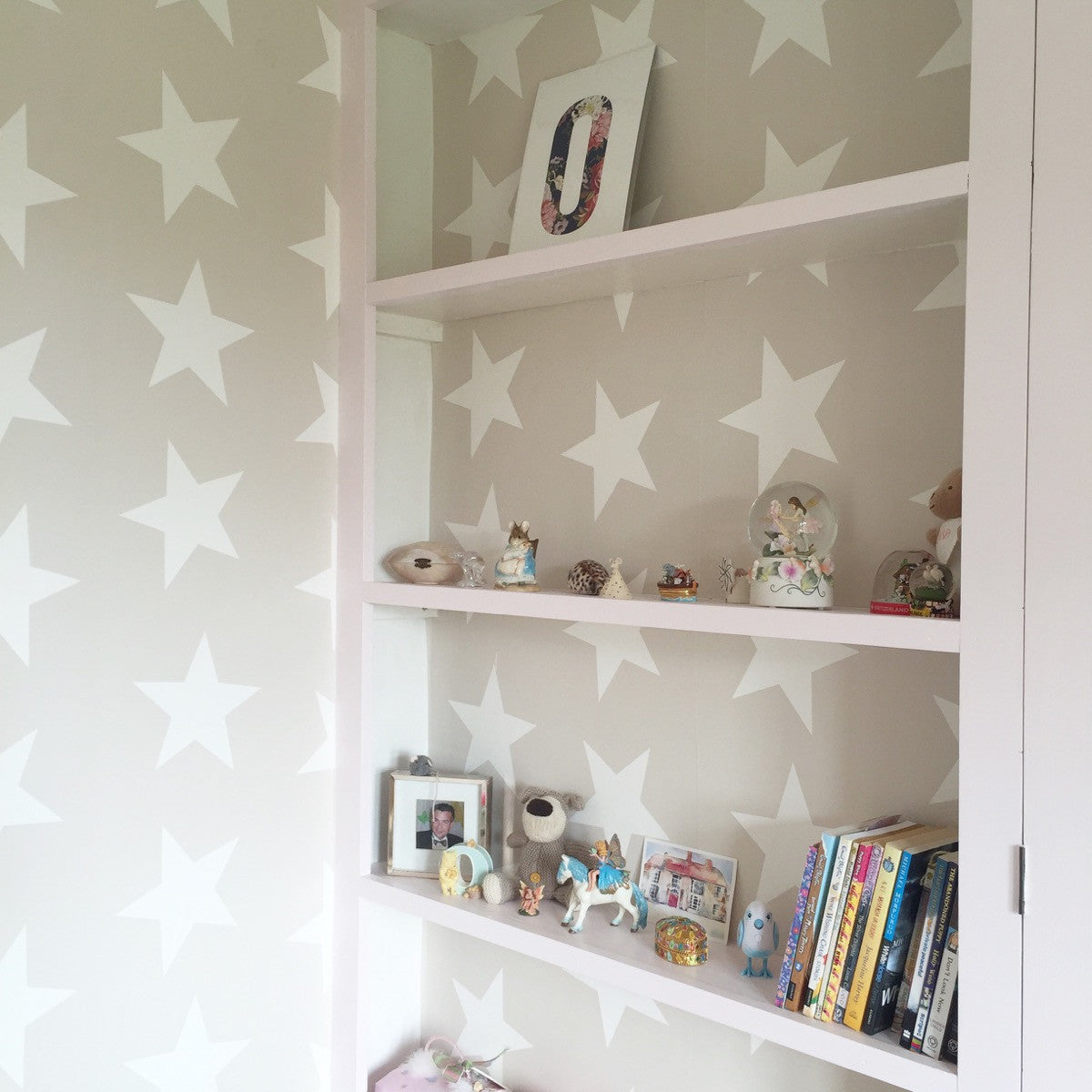 A New Bedroom For Louise's 10 Year Old Daughter
Louise's eldest daughter, Olivia, turned 10 in May and instead of a normal, wrapped up birthday present she said that she would decorate Olivia's bedroom. Olivia jumped at the idea and, although Louise was going to do up her bedroom this year anyway, Louise thought that combining it with her birthday was the way forward.
Louise felt spoilt for choice with all the beautiful fabrics that she had used for Lolly & Boo but wanted to be careful to try to get it right for a ten year old. It couldn't be a little girl's room but she is still only ten, so she didn't want it to be too grown up either.    
Louise and her family moved in their house eighteen months ago and Olivia's was the first room to be decorated from top to bottom. It was painted magnolia (as was the whole house by the people who lived there before in order to sell it!) with one wall of built in cupboards and shelves in nasty ginger pine.  Farrow and Ball was crying out to her!
Louise's children are so used to seeing the beautiful linens that she works with but they are never for them, so it was lovely to sit down with Olivia to work out which fabrics could be used in her room.
It didn't take long for Olivia to pick the gorgeous Puppy Love linen from Olive & Daisy for a Roman blind for her window. She previously had curtains but they took up so much room and ended up knocking things off her bedside table, so Louise decided to make a Roman blind instead.
Louise also planned to make a drum lampshade for the ceiling light in Puppy Love, and they went for the sand and rose pink colourway.  
You can order a drum lampshade in Puppy Love linen by clicking here.
To complement the colours in the Puppy Love linen, Louise and Olivia chose Olive & Daisy's hearts linen in rose pink and grey.  Tiny scattered hearts which were perfect to make a small lampshade for the bedside table and also a memo board to go on her desk.
Louise and Olivia decided to wallpaper one wall of the room to finish it off beautifully. Inspired by a photo of her daughter's bedroom on Instagram, Louise spoke to Kimberley Bell who owns Peony & Sage, who sent samples of all of the neutral colourways of her large stars wallpaper.  Having stuck them up in Olivia's room for a few days Louise and Olivia chose the faded white colourway, which worked perfectly with the colour of the Puppy Love linen and Farrow & Ball Middleton pink.
That just left paint and amazingly Olivia said that she would like a very pale pink for the cupboards and shelves. They tried three Farrow & Ball testers - pink ground, calamine and Middleton pink. Louise had thought it would be too pink but it turned out that Middleton pink was perfect. For the walls Louise got a Dulux trade equivalent of Wimborne white which was a lovely fresh white after the dull magnolia that had been there before.
Louise had a picture in her mind of how she hoped the room would turn out, and was so pleased with the result. Such a fresh look, the room seemed much bigger now too. The feature wall of wallpaper just finishes the room off perfectly, particularly Louise's mother's wonderful idea to paper the back of the built in shelves!